(This article was originally featured in "St. Louis Game Time," Vol. 4 No. 6, October 25, 2008 in "Tomorrow's Blues with Brian Weidler")
The Blues have a long history of drafting players from the NCAA ranks. Back in the 80's, the usual reasoning was because the team had four years to make a decision on the player, and meanwhile they were developing on someone else's dime. Players like Nelson Emerson, Curtis Joseph, Rod Brind'Amour and Jamal Mayers all joined the Blues' organization after being drafted (or, in Joseph's case, signed as a free agent) out of college programs.

More recently, the Blues have been drafting college players not because they get four free years of development out of the deal, but because the talent level of the colleges has improved drastically. Players like Erik Johnson, Lee Stempniak, David Backes, Steve Wagner, T.J. Oshie, Chris Porter and Ben Bishop have all come to the Blues after college careers... and most of those players turned pro before graduation.

The Blues have a strong crop of prospects in college for the 2008-09 season. In this space, we've already introduced you to Boston University's David Warsofsky and Clarkson goalie Paul Karpowich, both taken by the Blues in last summer's Entry Draft. Tonight, we'll catch up with some of the Blues' previous picks who are developing their game in some of the nation's top programs.



Aaron Palushaj

(RW, shoots R, 5'11, 187; Blues' 5th pick, 44th overall, in 2007): Probably the Blues' top prospect in college, Palushaj is the leading scorer for Red Berenson's Michigan Wolverines this year with five goals (including two game-winners) and nine points in five games.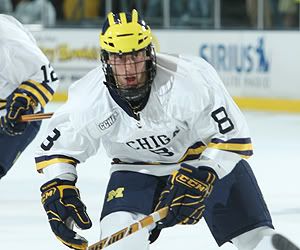 An exceptional all-around player, Palushaj has quick hands and an accurate shot, and is an first-rate passer and set-up man. His 34 assists last season for the Wolverines ranked him first on the team, and second in the nation. Palushaj added ten goals to those helpers, and his 44 total points ranked him third in the nation among freshmen. Those lofty accomplishments, however, couldn't get the Wolverines a championship, nor any significant individual honors for Palushaj, who managed only an honorable mention to the CCHA All-Rookie team.

Last year, Palushaj played second fiddle to seniors Kevin Porter and Chad Kolarik, as well as fellow freshman Max Pacioretty. As a result, Palushaj didn't get the attention of the opposition's top checkers and was able to fly under the radar. This year, Palushaj's no secret to the opposition any more, and he's proving that last year's point totals weren't a result of facing second-unit checking lines.



Ian Cole

(D, shoots L, 6'1, 211; Blues' 2nd pick, 18th overall, in 2007): A big, strong, mobile and mistake-free defenseman, Cole was drafted higher at 18th overall than any other Notre Dame player in history. An excellent skater, Cole has a powerful stride that facilitates rapid acceleration, and his recovery speed when getting back on defense is outstanding as well.


As a freshman last year with the Fighting Irish, Cole put up 8-12-20 totals in 43 games, his highest scoring totals in a single season since his midget days with Detroit Victory Honda. His modest scoring totals while with the US National Team Development Program have led to Cole's offensive game being somewhat under-rated, but last year's point totals -- as well as his 1-3-4 totals in just three games this year -- indicate that this aspect of his game is developing nicely. He makes a nice first pass out of the zone, and possesses solid offensive instincts that let him know when to join the rush and when to hold back.

Cole's physical presence was what led the Blues to rank him as highly as they did, and he continues to play a rock-solid physical game at the next level. Strong as an ox, Cole also has the endurance to log big minutes, and can either muscle an opponent off the puck with ease or lay them out with a board-rattling check.

Nearly a generation ago (has it really been that long), the Blues had a big, physical defenseman who had a solid offensive game, was a rock on defense, and was a leader on and off the ice. Scott Stevens wasn't drafted or developed by the Blues, and only wore the 'Note for one season in his Hall of Fame career. While it's still too early to start mentioning Cole in the same breath with Stevens, the Blues and their fans have good reasons to hope that they can grow their own Stevens almost twenty years after losing the original.



Cade Fairchild

(D, shoots L, 5'10, 186; Blues' 7th pick, 96th overall, in 2007): Not big or physical, Fairchild's game is all about offense. He stepped in as the QB of the Minnesota power play last year, and helped the Golden Gophers to a 13.0% conversion rate (25/193) with the man advantage.


Fairchild can generate offense in the transition game with tape-to-tape breakout passes, and is able to make quick, no-look feeds even while on the move. These skills helped Fairchild to a 2-13-15 scoring line last year, but his minus-4 mark points to his issues in the defensive end.

The McKeens Hockey Prospects website describes Fairchild as "a defensive liability that allows his man to get a step on him and go in clean to the net with scary regularity," and notes that his "lack of strength is most evident around his net, as he's easily out-muscled for position." To his credit, Fairchild has worked on those defensive shortcomings, and is currently a plus-2 for the Gophers. McKeens sums up Fairchild's potential by noting that he has "ability with the puck that you cannot teach, but he will need to bulk up and improve defensively to take the next step."



Jay Barriball

(LW, shoots L, 5'9, 155; acquired in trade from San Jose, Feb. 27, 2007): Despite his lack of size, Barriball has a great big skill set, and is able to operate in traffic even at 5'9, 155. The Prior Lake, Minnesota native is now in his third year with the Golden Gophers, and is off to a decent start with one goal (a game-winner vs. St. Cloud State on Oct. 18) in two games.


Entering this season, Barriball has 26 goals and 64 points in two seasons at the NCAA Division 1 level, and has had a couple of reasonably impressive showings at the Blues' Development Camp in 2007 and this year. Barriball is a decent skater with great puckhandling ability, and battles hard with and without the puck. He is also defensively aware, uses his speed to come back and help out in his own end, and his pucks skills allow him to create turnovers on defense.

His size will always be a strike against him, but as long as there's a place for skill in the NHL, Barriball will have a shot.

Next time in "Tomorrow's Blues," we'll take a look at the rest of the Blues' college prospects, and see where all the prospects are after the first month of play. Until then, remember... "if we do not prepare for ourselves the role of the hammer, there will be nothing left but that of the anvil." Auf wiedersehen.