(This article was originally featured in "St. Louis Game Time," Vol. 4 No. 7, October 31, 2008 in "Tomorrow's Blues with Brian Weidler")
In the last edition of "Tomorrow's Blues," we caught up with the more high-profile members of the Blues' stable of college prospects. Tonight, we'll take a look at the guys who don't stand out from the crowd quite as much.

There is an entire forward line, plus one, in tonight's crop, plus a converted forward now playing defense. All of the forwards have what the scouts like to call "NHL size," and at least two of them are possible power forwards in the making.



Matthew McCollem

(LW, shoots L, 6'1, 205; Blues' 6th pick, 154th overall, in 2006): Something of a dark horse among Blues' prospects, McCollem is a potential home-grown Keith Tkachuk... he has the size, he has the Boston background, and he has the nose for the net.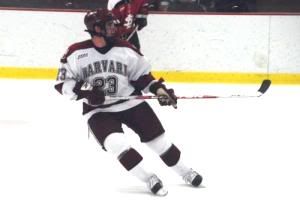 A former captain and scoring leader at one of the most prestigious prep programs in the Boston area (Belmont Hill), McCollem's career at Harvard did not get off to a great start last year (0 G, 3 A, minus-7 in his first 18 games). Once February rolled around, however, McCollem heated up as fast as the weather outside cooled down.

"He got off to a slow start [last year]," Crimson coach and former NHLer Ted Donato said in the US College Hockey Online.com Harvard season preview, "but in the last third or half of the season he was superb. He's got the physical tools that make him very difficult to stop when he's on his game."

"Superb" just about covers it when describing McCollem's first spring as a collegian. In his last 13 games, the Somerville, MA native racked up five goals and 11 points, a plus-8 mark, and six minutes in penalty time, leading Harvard to the NCAA East Regional Final before falling to Princeton, one game shy of a Frozen Four appearance.

For the 2007-08 season, McCollem's totals were a very respectable 5-9-14 in 31 games, with a plus-1 and 28 minutes in the sin bin. The Crimson are counting heavily on McCollem to be one of their leaders on offense when they kick off the 2008-09 season on Oct. 31 vs. Lee Stempniak's alma mater, Dartmouth.



Andrew Sackrison

(C/W, shoots L, 6'1, 200; Blues' 5th pick, 124th overall, in 2006): The Blues have found a pretty rich vein of talent at Minnesota State - Mankato in recent years, bringing draftee David Backes and free agent Steve Wagner out of school early and into the organization in recent years. The club hopes to continue this tradition with St. Louis Park, MN native Andrew Sackrison.

Another potential power forward for the Blues, Sackrison has bulked up from his draft weight of 178 pounds, and his no-frills game of finishing his checks and working hard on the penalty kill translates well to the NHL style.

McKeens Hockey Prospects website notes that Sackrison is a player that doesn't hesitate to drive to the front of the net, and his excellent balance and strength make him tough to move once he gets there. McKeens also notes that Sackrison is not an elite scorer or playmaker, but is a better-than-average passer with good on-ice vision, and that he "pursues the puck adequately where his fine top gear is commanding in the open ice."

As a freshman at MSU last year, Sackrison rang up six goals and 20 points in 36 games. In the USCHO.com Minnesota State 2008-09 preview, Mavericks coach Troy Jutting calls Sackrison, along with juniors Kael Mouillerat and Geoff Irwin, a player that is "ready to step up from the 20-point plateau and into that 30-point range. And, if you can get five, six kids in that range, I think you can be successful."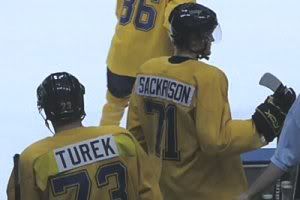 This year, Sackrison has been playing on a line with Irwin and Jason Wiley, and Sackrison assisted on goals by both Wiley and Irwin as the Mavericks split a series with North Dakota last weekend.



Trevor Nill

(C, shoots R, 6'2, 185; Blues' 7th pick, 190th overall, in 2007) and

Ryan Turek

(D, shoots R, 6'0, 185; Blues' 4th pick, 94th overall, in 2006): Both Turek, a junior, and Nill, an incoming freshman, skate for Rick Conley's Michigan State Spartans, and each has a single assist in early-season play. Turek was a member of the 2006-07 national championship team, but did not appear in the final game and only played in one game on Scottrade Center ice during the Frozen Four that year.

Turek was a swingman in junior hockey, playing both defense and center with Omaha of the USHL in his draft year, but has since been converted into a full-time defenseman at Michigan State. McKeens Hockey Prospects website notes that the switch to defense "suit(s) his game better. (Turek) displays good range, as he utilizes his strong stride well to jump and join the offensive attack as well as to cover up a lot of ice while defending." McKeens also notes that the Northville, MI native is "fairly strong with a big frame that he uses well to be tough in front of his crease, neutralize his man along the wall, and to stand up his man at the blueline."

Never an elite scorer even in junior, Turek's next collegiate goal will be his first. He has, however, managed 8 career assists in 71 games to date, and has recovered from a minus-9 mark as a freshman to be a valuable member of the Spartan blueline.

Nill, son of Red Wings' executive and former Blue Jim Nill, developed in and was drafted out of the Detroit Compuware junior program before heading west for a season with the Penticton Panthers of the British Columbia Junior League last year, where he was 5-6-11 with 16 PIM in 53 games.


McKeens notes that Nill was "not expected to provide a lot of offense in the early going (at MSU this year), however (he) provides welcome size down the middle and plays a mature game on the defensive side of the puck." His defensive skills include an ability to tie up his man when taking faceoffs, and a regular shift on the penalty kill.

Nill "probably should get a bit more out of his 6-foot-2, 185-pound frame than he currently does," McKeens also notes, and "seems to lack the elite vision with the puck that would allow him to be able to distribute the puck better."



Travis Erstad

(C, shoots R, 6'4, 205; Blues' 8th pick, 100th overall, in 2007): Originally scheduled to attend UW-Madison this season, Erstad decided at the 11th hour to return home to Stevens Point and opted to enroll at the hometown branch of the UW system instead. The decision to forego a Division I career to play in Division III doesn't bode well for Erstad's pro future, as only a handful of players have ever been drafted out of a Division III school, and no notable current NHL players have attended one.

UW-SP has played one game so far this season, a 10-0 rout of Northland College. Erstad started the game for the pointers, but managed only one assist out of the 14 awarded on the Pointer goals. Last year with Lincoln of the USHL, Erstad racked up 9-10-19 totals and 104 PIM in 52 games.


At 6'4, 205, Erstad has the size and the skill set to make an impact no matter what level he plays, but there's some question about the heart, and the willingness to pay the price for a high-level career

Next time in "Tomorrow's Blues," we'll review the first month of the AHL season with Peoria, and have a few words with Rivermen bench boss Davis Payne. Until then, remember... "if we do not prepare for ourselves the role of the hammer, there will be nothing left but that of the anvil." Auf wiedersehen.