(This article was originally featured in "St. Louis Game Time," Vol. 4 No. 8, November 1, 2008 in "Tomorrow's Blues with Brian Weidler")
October was a pretty good month for Davis Payne and the Peoria Rivermen.

With nine games under their belt, and having survived the organizational goalie-go-'round along with the parent club, the Rivermen are a solid 5-3-1-0 for 11 points and the sixth spot in the Western Conference, and fourth place in the West Division behind the Rockford IceHogs (CHI) at 7-1-0-0, Chicago Wolves (ATL) at 5-2-1-1, and Iowa IceHogLogoRipoffs (ANA) at 6-4-0.

The Rivs started October with a pair of tough losses to Iowa in a home-and-home series, but closed out the month on a three-game win streak, capping it off with a 4-2 win over the Quad City Flames on Halloween. Czech import Marek Schwarz went the distance in net for Peoria, stopping 27 of 29 shots against for his first win of the year, improving his AHL record to 1-2-0, and his GAA and save percentage to 4.05 (from 5.13 before Friday night) and 86.0% (from 82.5%).


Payne's club has 31 goals for, and 27 against, in the nine games played to date, and the power play has been a driving force behind the offense. In 67 chances so far, the Rivermen have 14 goals, which ties them with Rockford for the highest raw goals-for total on the power play. 14 of 67 equals a 20.9% success rate on the power play, good for a sixth-place tie in the league with division rival Milwaukee. In five home games, the Rivermen are scoring at a 25.7% clip with the man advantage (9 of 35), good for sixth place, while away from the friendly confines of Carver Arena, the boys are 5-for-32 for a 15.6% success rate (11th in the AHL).

All in all, not too shabby for a team that's seen a lot of turnover since last season, in the front office and on the ice.

"I think that we've accomplished what we wanted to and addressed the weaknesses of our club from last year," noted Payne. "We didn't feel like the (team) mobility was as good as it needed to be in this league, especially with the way the game is played now. We feel like we've got pretty good mobility on the back end, with the ability to distribute the puck."

"As far as our group up front," Payne continued, "we wanted to have guys that could play the game in all different styles. We feel we're a little bit bigger up front, and we can play a grinding game if necessary, but (we) also have the right ability to finish off plays and we feel we've got a good grit element to our game."

"The concern has been some inconsistent play by some guys early, but that's why we're here (in the AHL)."


Several players have, fortunately, been anything but inconsistent in the early going. 24-year-old Steve Regier, an AHL veteran signed from the Islanders this summer as a free agent, has been "Mr. October" for the Rivermen, with 7-4-11 totals (3 PPG, 2 GWG) in nine games. The 6'4, 195-pound Regier is tied for second in the AHL in goals scored, trailing only Hershey's Alexander Giroux, who has nine.

"He's doing a lot of things well," Payne said. "His first couple of games, it didn't really feel like he was up to speed. But he got past that, and you talk about his last six, seven games, he's been very consistent in all the right areas. He's very conscientious defensively and positionally, he has good speed, good skills, and the ability to make plays. We've been really pleased with him all around; he's provided us with a lot.


Throw in contributions from Julian Talbot (5-4-9, 14 PIM, 4 PPG in nine games), emerging young star Nikolay Lemtyugov (2-7-9, plus-1, 2 PPG), and Dallas import Chris Conner (4-3-7, 2 PIM, 3 PPG in eight games), as well as steady veterans Trent Whitfield (2-5-7) and Cam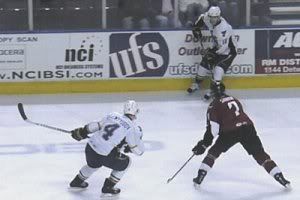 Paddock (3 G), and the Rivermen are getting offense from every line so far.

On the blueline, the mobility and puck distribution Payne spoke of has been prominently featured, especially since the assignment of rookie Jonas Junland (who is said to be held in very high regard by Blues' management) and the return of Jeff Woywitka to central Illinois.

Since being sent to Peoria last week, after missing almost six weeks with a broken bone in his right foot, Woywitka has been nothing short of dominant in a Rivermen sweater. In just three games, Woywitka has five assists, is a plus-2, and has been logging big minutes as the de facto number one defenseman in Payne's lineup.

"Obviously, with Jeff Woywitka, he's a guy with great feet (skating ability) and he can really dominate at this level with his feet," said Payne. "He hasn't played much, and his game conditioning may be not there yet, but when he's up and going, he's a premier guy at this level with his ability to skate and defend, move the puck, shoot the puck... he gives us a lot of options back there."

The goaltending has been top-notch for the Rivermen as well in the month of October. Schwarz had a rocky start, but showed there's still a place for him in the organization by preserving a shutout for fellow prospect Ben Bishop while in St. Louis, and by being reassigned to Peoria with the intention of being top dog there for the time being.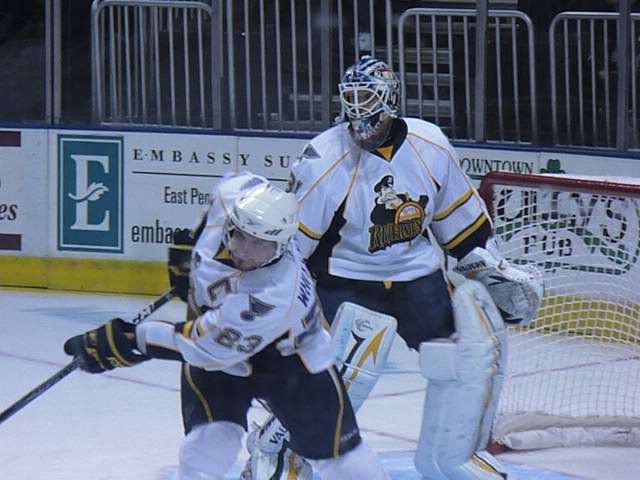 Unheralded Chris Holt came over from the Rangers' organization in midsummer, and got the call from Alaska when the Blues' goaltending stable got bit by the injury bug. His work in a pinch in Peoria (2 GP, 2-0-0, 2.00 GAA, 91.5% save percentage) earned him an NHL contract from the Blues just the other day.

"For a guy that played half a period here in training camp, and played one game in training camp up in Alaska, he's come in here and given us exactly what we needed," Payne commented. "He's solid, he makes big saves when needed; all the saves you expect your guy to make, he was there for us. Doesn't give up a lot of rebounds; he made a couple of miscues on some pucks, but really, he gave up four goals (in a weekend series with Lake Erie), and one went in off of us, off of a faceoff, and that's a pretty good performance against a pretty good offensive group."

Next time in "Tomorrow's Blues," after the road trip, we'll take a look back at the early season for the European prospects. Until then, remember... "if we do not prepare for ourselves the role of the hammer, there will be nothing left but that of the anvil." Auf wiedersehen.