(This article was originally featured in "St. Louis Game Time," Vol. 4 No. 3, October 18, 2008 in "Tomorrow's Blues with Brian Weidler")
So far, so good... the Blues have had two home games this year, and won them both by a combined score of 11-3. The young players on the team -- David Perron, Patrik Berglund, T.J. Oshie and 2008 first-rounder Alex Pietrangelo have been big contributors to the team's early success. All of these players have one thing in common besides being members of the Blues; all were first-round picks.

Tonight, our focus will be on the players taken late by the Blues in the 2008 NHL Entry Draft, the players in rounds four through seven. These players may not necessarily be bound for NHL stardom, as is expected of the first-rounders, but there's talent on defense, at forward, and in goal in the Blues' late 2008 picks.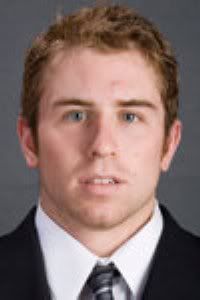 Something of a surprise pick in the fourth round (95th overall) was US National Team Development Program defenseman

David Warsofsky

. The Blues are known to scout the USNTDP very heavily, but Warsofsky's size -- or lack of it at 5'8 and 160 pounds soaking wet -- has been considered a major strike against him at the defense position.

There are definitely positives to Warsofsky's game, however. Vincent Montalbano at the McKeen's Hockey Prospects website notes that, "despite (his) lack of size, (Warsofsky) is an extraordinary player with exceptional skill, especially on the power play." The mighty mite is, in fact, considered something of a power play specialist, with a one-timer that is especially suited for man-advantage play, and an ability to always find the open man in a power-play situation.

The native of Marshfield, Massachusetts served as the captain of the U-18 squad for the USNTDP, and was second on the squad in scoring with nine goals (three PPG) and 40 points in 56 games. Before being drafted by the Blues, he signed a letter of intent to play at Boston University, and then went to Russia to skate for Team USA at the U-18 World Junior Championships, racking up seven assists and a plus-6 mark in seven games.

McKeens notes that Warsofsky "displays proper positioning on defense, as he does an effective job of cutting down angles and getting in the shooting lanes." The website further notes that he is "not afraid to initiate contact and get in the face of opponents," and that he "does not look to shoot from the point that often, as he prefers to utilize his productive passing game to set up teammates; however, he will pinch at times, as he loves to crash the net and be on the receiving end of a one-timer." Warsofsky has a pair of assists in three games for the Terriers this year, and both have come on special teams (on shorthanded assist and one power-play assist).

In the fifth round, the Blues went back to Europe, and took another offensive-minded defenseman with the 125th overall pick.

Kristofer Berglund

(no relation to Patrik) became the second defenseman chosen in the last three years by the Blues from IF Björklöven of the Allsvenskan (Alexander Hellström, currently in Peoria, was taken 184th overall by the Blues in 2006).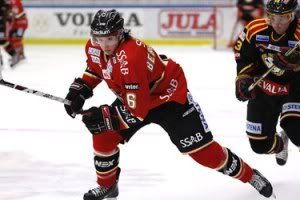 The 5'10, 180-pound native of Umea, Sweden was cited by several of the major scouting services as one of Sweden's top players in the 2008 U-20 World Juniors. McKeens Hockey Prospects called him "an adept puckhandler with excellent anticipation and hockey sense" as well as "a good positional defender (who) knows how to play the body, but (is) by no means a physical player," and said the WJC was a "coming-out party" for him.

International Scouting Services called Berglund "an excellent penalty killer ... who eats up pucks with his stick and skates," and NHL Central Scouting pulled no punches when they called him the "top Swedish d-man at (the) World Junior U20."

Totals of 4-21-25, a plus-10 mark, and 16 minutes in penalty time with Björklöven in 2007-08 earned Berglund a ticket to Luleå HF of the Elitserien for this season, where he's currently 1-3-4 with an even plus-minus and 6 PIM in 12 games.

In round six, the Blues went back to the Ontario League for Guelph Storm center

Anthony Nigro

. The 6'1, 190-pound Toronto native made great strides in his second Ontario League season in 2007-08, nearly tripling (from 17 to 48) his point totals from his rookie year, and improving from 4 to 24 goals.


International Scouting Services notes that Nigro "does a few things well, which include jumping into holes and going to the net with his stick on the ice, and working hard for the second and third chances. His defensive side of the game has been excellent, and he is always committed to taking care of that."

In 11 games with Guelph this season, Nigro has four goals and four assists, but is currently in the midst of a six-game scoring drought. His plus-minus is even, and he has 16 minutes in penalty time to go along with a power-play goal and a game-winner (vs. Erie on Sep. 26).

The Blues swung a deal with Los Angeles to re-acquire their seventh-round pick, and spent it on junior "A" goaltender

Paul Karpowich

of the Wellington Dukes.
In 22 games with the Dukes last year, Karpowich posted a 15-3-2 record, a 2.15 GAA and 92.2% save percentage with three shutouts.

Karpowich signed a letter of intent to attend Clarkson this season, and made his NCAA debut Oct. 17 against RIT, stopping 31 of 35 shots to lead the Golden Knights to a 6-4 win. He will likely get the nod again tonight vs. the College Hockey America defending conference champion Niagara Purple Eagles.

In the Clarkson 2008-09 Media Guide, head coach George Roll said, "Paul enjoyed a really good playoff run with Wellington last year and was rewarded by being drafted by the St. Louis Blues this summer. From all indications, he should come in and compete for the number one job. He is a big standup goaltender who handles the puck extremely well."

Next time in "Tomorrow's Blues," we'll take out first look at the Peoria Rivermen, and catch up with the progress of prospects like Ben Bishop and Nikolay Lemtyugov, the number one and number two stars in Peoria's 3-1 win over Milwaukee on Friday night. Until then, remember... "if we do not prepare for ourselves the role of the hammer, there will be nothing left but that of the anvil." Auf wiedersehen.