(This article was originally featured in "St. Louis Game Time," Vol. 4 No. 4, October 22, 2008 in "Tomorrow's Blues with Brian Weidler")
Five games into the 2008-09 AHL season, and the Peoria Rivermen are just about where they want to be.

Currently tied for fourth place in the AHL's West Division, Peoria is one of four teams (the Chicago Wolves, Grand Rapids Griffins and Lake Erie Monsters are the others) in a race for the seventh and eight playoff spots in the Western Conference.

The AHL schedule calls for most games to be played within the division, and the Rivermen epitomize that philosophy so far by having played every game to date within their division. With two wins (vs. Quad City and Milwaukee), two losses (vs. Chicago and Iowa), and an overtime loss to Iowa, the Rivermen are at .500 on the year, and have allowed 15 goals in their five games while scoring 14 of their own.


Leading the way in goal scoring for the Rivermen is center

Julian Talbot

. Talbot, signed as a free agent by the Blues last year during a breakout AHL season (24 G, 26 A), leads the way in goals for Peoria with four, three of which have been scored on the power play. Through five games, Talbot's three PP goals account for fully half of Peoria's success with the man advantage; the Rivermen have converted six of 38 chances for a 15.8% mark, which puts the power play right in the middle of the AHL pack.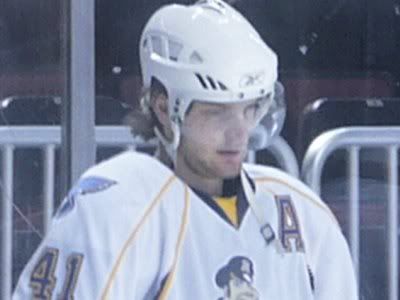 Tied with Talbot for the team scoring lead is left wing

Steve Regier

, a 6'4, 194-pound Edmonton native who signed with the Blues as a free agent in July. Regier, with three goals and five points, has the game-winner in both of Peoria's wins thus far, and has a history of scoring "money" goals in the AHL. Last season with Bridgeport, Regier scored 19 goals in 65 games; five of those were game-winners and ten were scored on the power play. In 2006-07, also with Bridgeport, Regier's 19 goals included another five game-winners, three shorthanded goals and seven on the power play. In 147 games during the last three seasons, Regier has scored 41 goals, 12 of which were game-winners and 17 with the man advantage.

Also checking in with five points through Peoria's first five games is Russian winger

Nikolay Lemtyugov

. The St. Petersburg product made an impressive AHL debut last year with 22 goals and 37 points in 69 games, and his well-publicized beatdown of Quad City's Tim Ramholt helped him rack up 71 minutes in penalty time as a rookie. Lemtyugov also has a knack for starting strong in games; seven of his 22 goals last year were the first goal of the game.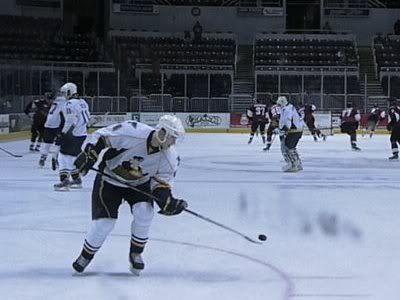 This season, Lemtyugov is cementing his position on the Rivermen and in the Blues' organization with another solid start, using his exceptional skating and puckhandling skills to set up goals (four assists in five games). He was teamed with Talbot and AHL veteran Cam Paddock early on, but seems to have settled in with Regier and fellow Blues' draftee

Nick Drazenovic

in the last few games. Lemtyugov's lone goal this season was, true to type, the first goal of the game in a 3-1 win over Milwaukee last Friday, and was set up by Regier and the AHL-contracted defenseman Jim Jackson.

Drazenovic, a 6' centerman who checks in at 175 pounds, has a pair of assists thus far in five games, and is among the team leaders in penalty time with 14 minutes in the sin bin. In 2007-08, Drazenovic also made an impressive rookie debut, racking up 16 goals and 42 points in 69 games after missing the first couple of weeks while recovering from a bout of mononucleosis. The Prince George, BC native contracted mono during the 2007 Western League playoffs, when he resurrected his fortunes as a Blues' prospect with nine goals and 19 points in 15 games for the hometown Cougars.

Another player looking to brighten his horizons in the Blues' organization is Czech center

Tomas Kana

, back for another kick at the can in North America after a less-than-auspicious debut in 2007-08. Kana showed up for the Blues' Development Camp in 2007 out of shape, and was assigned to Peoria very early in training camp. The 6', 200-pound center never got into a game with Peoria, and was assigned to Alaska of the ECHL, where he scored two goals in 12 games before bolting back to his Czech homeland. To his credit, Kana played well in the Czech league, with 10 points (5G, 5A) in 25 games spilt between HC Vitkovice and Usti nad Labem, and came to the Blues' main camp this year in better shape, and with a better attitude. Kana is scoreless thus far with the Rivermen, but is playing a key role on the checking/energy line.

Talbot, Regier (at 24 the oldest of the Kiddie Corps), Lemtyugov, Drazenovic and Kana are examples of the Blues' commitment to youth at all levels of the organization, but there's room for veterans -- and the leadership they provide -- in Peoria as well.

31-year-old journeyman

Trent Whitfield

has been a consummate professional and leader for the Rivermen since signing as a free agent with the Blues in the summer of 2005. He led the Rivermen in scoring in 2006-07 with 33-45-78 totals in 79 games, and last year was fourth on the squad with 22 goals and 52 points while transitioning into a leadership role. This season, Whitfield has earned the "C" for the Rivermen, and leads by example wile still maintaining a presence among the team's scoring leaders with a goal (scored shorthanded vs. Iowa on Oct. 11) and three assists.

Regier, in his fourth AHL season, was awarded one of the alternate captain positions by Rivermen coach Davis Payne, and the other went to fellow free-agent signee and AHL veteran

Cam Paddock

. Drafted 137th overall by Pittsburgh in 2002, Paddock spent the last couple of seasons in the Phoenix organization. The right-shooting centerman spent the entire 2007-08 season in San Antonio, and hit for 12 goals and 25 points in 71 games. Paddock also showed he could handle the rough stuff on the ice, notching 107 minutes in the sin bin during the regular season, and another 18 minutes in seven playoff games for the Rampage.

This year, Paddock has one goal in five games, scoring in Peoria's home opener on Oct. 11, a 4-3 OT loss to the Iowa Chops. He's also restrained himself thus far in the penalty department, with only a slashing penalty on Oct. 18 at Chicago to blemish his record.

Next time in "Tomorrow's Blues," we'll look at the defense and goaltending of the Rivermen this season. Until then, remember... "if we do not prepare for ourselves the role of the hammer, there will be nothing left but that of the anvil." Auf wiedersehen.