(This article was originally featured in "St. Louis Game Time," Vol. 4 No. 2, October 16, 2008 in "Tomorrow's Blues with Brian Weidler")
Previously in this space, your Game Time Prospect Department gave you the scoop on the Blues' top choices in last June's draft; defenseman Alex Pietrangelo, forward Philip McRae, and goaltender Jake Allen.

Tonight, our focus is on the three players taken by the Blues in the third round of this summer's draft, starting with third-round pick (65th overall), forward

Jori Lehtera

from Tappara of the Finnish Elite league (SM-Liiga).


Like 2007 first-rounder David Perron, Lehtera was in his second year of eligibility for the draft when the Blues chose him last summer. Also like Perron, Lehtera is considered a highly-skilled player who is especially proficient at stickhandling. Lehtera was not ranked by any of the major scouting services (NHL Central Scouting, International Scouting Services or McKeens Hockey) in the early or mid-season rankings, but managed to rise to the 23rd spot in the Central Scouting Final European rankings.

The Helsinki-born Lehtera will turn 21 on December 23, and is in his third year with Tappara Tampere of the SM-Liiga, where he broke out last year with 13 goals and 42 points in 54 games, while posting a plus-7 mark and 22 minutes in penalty time. Three years at the elite level makes Lehtera a more mature and developed player than many of his peers in the Blues' organization, but there are the usual concerns about his ability to translate his excellent game in Europe to the smaller North American rink and more physical North American style of play.

Lehtera has NHL size at 6'2, 191, but could stand to develop a little more upper body strength in order to not be checked off the puck in the North American game. He could also stand to further develop his acceleration and top speed, but these negatives are coachable and correctable.

His positives are the things you can't teach; Lehtera has excellent on-ice vision and a good work ethic, and he is an accomplished playmaker who is able to find his wingers from anywhere on the ice. He is a set-up man first and foremost, and will almost always look for the pass instead of taking the shot himself, but his double figures in goals scored during the short Finnish season indicate that he knows how to shoot the puck as well.

Currently, Lehtera is scoring at a point-per-game pace with Tappara, posting two goals and 12 points in 12 games thus far, with a solid plus-6 mark and eight minutes in the sin bin. He's under contract to Tappara through the 2009-10 season, and the Blues are fairly deep at center in the organization right now, so there's no sense of urgency to rush him over to North America just yet. If, however, he continues to round into a solid leader, on the ice as well as on the scoresheet, Lehtera may well find himself poised to make the jump directly to the NHL when some of the Blues' veterans up front are ready to hang 'em up.


Five picks after the selection of Lehtera, the Blues came back to North America to tap into budding power forward

James Livingston

, a Nova Scotia native playing into the Ontario Hockey League with Sault Ste. Marie. Livingston, a 6'1, 200-pound right wing, ended the 2007-08 season with 21-23-44 totals, appearing in all 68 games for the Greyhounds and posting a plus-10 with 135 penalty minutes. Four of his 21 goals were scored on the power play, most at the beginning of the year he was a power-play specialist.

Livingston has been described by the McKeens Hockey Prospects website as "somewhere between being a tough guy and a skilled player, but not big or strong enough to be a heavyweight fighter and not good enough hands or skills to be an offensive player at the NHL level." The lack of a defined style in his game was reflected in the way Livingston fluctuated in the rankings by the major scouting services over the 2007-08 season.

Livingston started strong in the McKeens rankings at 14th overall, but by season's end he had dropped in their estimation to 89th overall. International Scouting Services also had Livingston ranked highly (16th overall) at the start of the year, only to see him fall, though not as far (to 39th) as he did at McKeens, and NHL Central Scouting had Livingston at 42nd at mid term and 53rd in the final rankings.

International Scouting Services did note about Livingston that "he works extremely hard every shift on the ice and carries himself with a great deal of class," and the Toronto Star website noted that Livingston "possesses the work ethic, grit and two-way presence to play an important role in the National Hockey League." Currently, Livingston has seven points (2 G, 5 A) in nine games with Sault Ste Marie, with a plus-2 mark and 17 PIM.

The Blues' last selection in the third round (87th overall) was role player

Ian Schultz

of the Calgary Hitmen. Schultz isn't the biggest guy out there at 6'1, 180 pounds, but he has a heart the size of Montana, with a great work ethic and outstanding leadership traits.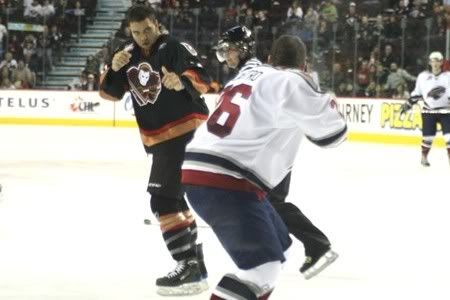 The intangibles, as well as a willingness to get his nose dirty, has resulted in Schultz playing on Calgary's top line over the last few seasons despite modest point totals (15 G, 15 A last year). Schultz spent all of last season on a line with Montreal draftee Ryan White, and is currently playing alongside fellow Blues draft pick Brett Sonne (the 85th overall selection by the Blues in 2007), who leads the Hitmen in scoring and is third in the Western League with 4-11-15 totals in ten games.

McKeens Hockey Prospects website notes that Schultz "has shown flashes of nifty moves and good stickhandling with the confidence to challenge opposing players using his speed and agility." International Scouting Services calls him "very hard-nosed and tough in all aspects of the game," and says he "has the tools to develop into a good power forward in the next few seasons."

Next time in "Tomorrow's Blues," we'll zero in on the Blues' last four 2008 draft selections; offensive-minded defensemen David Warsofsky and Kristoffer Berglund, center Anthony Nigro, and college-bound goalie Paul Karpowich. Until then, remember... "if we do not prepare for ourselves the role of the hammer, there will be nothing left but that of the anvil." Auf wiedersehen.